Review: Appendix Collective Tropical Depression
A low pressure system. The artists, as my friend Andre St. James says, "Keep it on simmer." I don't know how much consideration went into titling Tropical Depression, the current group exhibition at New American Art Union (922 SE Ankeny) by the Appendix Collective, but bearing Andre's words in mind, it's apt. The Appendix artists—Maggie Casey, Zachary Davis, Josh Pavlacky, Benjamin Young—like a tropical depression, have a low-key way of making weather happen.
Like a force of nature.
…which is what the works in Tropical Depression address: earth, water, sky…and man's forays into the great out of doors. These are works of modest scale in a mix of media that ranges from the common to the oddball (agar agar, anyone?) that are individually strong and collectively if not hurricane force, then close. The works inform and comment on one another, complete or contradict one another in intriguing and rewarding ways.
Maggie Casey has studded the gallery with a handful of sculptures that resemble rocks, or mineral deposits, some with crystal outcroppings. Some, you'd almost miss, appearing to grow out of the wall up high or down near the floor, black, white, and grey. The most magnificent is "Comma" at the front of the gallery on a pedestal…what looks like white stone bristling with opaque, quartz-like crystal is accretions of plaster, silicone, crowned by fine crystalline white spikes of…what is that? It's rabbit fur! These objects are beautiful on their own. If Casey'd picked them up off the floor of a cave and placed them on white pedestals, I'd still love them. (I am a big fan of the rocks at OMSI.) But the fact that they're not naturally-occurring geological formations but artificial constructions is what makes them so delightful. Modern art may have taken a path away from art in imitation of nature, but Casey's works seem to say, good luck with that.
Next to Casey's "Comma" is Josh Pavlacky's "The Hunter's Courtship," one of Pavlacky's two sculptures made of agar agar, the gelatinous stuff that one otherwise finds either in the bottom of a Petri dish beneath bacterial cultures OR as a food thickener. Yum! Pavlacky applied pigment to great sheets of agar poured out on flat surfaces, and then let them dry. And as they dried, they shrank and curled leading to these complex forms of tangled lines and twisted surfaces that surprise from every angle.
In choosing this medium, Pavlacky engages in a collaboration with the material like no other. He apparently let the medium dictate the form, and what a form it is. Helen Frankenthaler's work has always interested me for her experiments with allowing paint to bleed into the unprimed canvas, essentially giving a degree of freedom to the medium. Here the agar agar, as it dried, chose its form, curling into a result that almost looks as though it were burnt and melted, suggesting a kind of violence. And I have to say that something about it brought to mind a John Chamberlain car piece, like this, "Untitled," (1962):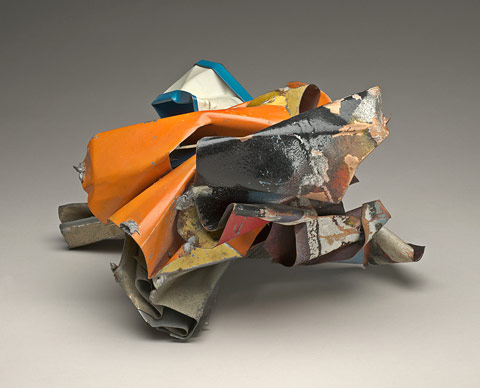 (related: Lee Kelly's painted sculpture at PAM retrospective.)
Just as Pavlacky gave the medium a degree of autonomy, Zachary Davis contributes three video works that let the subject be what it is without manipulating the hell out of it. Davis' subject is the surface of water rippling in the wind in one instance, water's dancing reflection of sunlight onto tall green bushes poolside in another, and in a third, "Conic Section," a luridly colored sunset, vivid orange clouds against a deep blue sky. In each case, partly because the camera is fixed, partly because of the subject, and partly because the videos are presented on modestly-sized monitors, the works are like abstract paintings that pulse with light and life. The monitor for "Conic Section" is on a slow moving turntable that moves, if memory serves, at the speed of the clouds being blown across the sky, first in the same direction, and then reversing. As the works Pavlacky did in agar agar reflect a slowing down, a patience on the part of the artist as the medium does what it does, Davis' video works invite a slowing down on the part of the viewer, serving as a reminder to me at least of doing the same out in the world, being attentive to the wind and light do what they do.
And as reminder of man in nature and the ways we engage it, Ben Young's "Campware #4," a rectangular piece in a vivid blue evokes the finish fetishism (borrowed from SoCal car culture…cherry!) of works like John McCracken's, but in an Yves Klein blue…until you get very close and see that its speckled with white like the vintage enamelware. So this very most unnatural-looking (which is to say manufactured and, I should say, very beautiful) object cleverly lives at the intersection of art history, the manufactured, and a National Parks kind of semi-sanitized or controlled experience of nature via its retro-camping vibe. Young's nearby "Hair Piece," a tower of white faux hair, though its sited next to "Campware #4″ seems to be having a conversation (material wise) with Casey's "Comma" across the gallery while another of his "Campware" pieces sits on the floor in the back corner reflecting one of Davis' video works. The connections between the pieces, both forced via the show's interesting layout and suggested via relations between material and form, make the whole that much more dynamic. Not unlike the Collective itself.
Maggie Casey, Zachary Davis, Josh Pavlacky, Benjamin Young have only been a collective for a short time, and in that short amount of time, they've run Appendix Space in an alley off of NE Alberta, consistently curating interesting exhibitions while showing together and collaborating together on individual works and major installations, each bringing something to the Stone Soup pot and taking away something richer for it. That the work of each is individually strong and not subsumed to the collective mind only makes this show and the collective better.